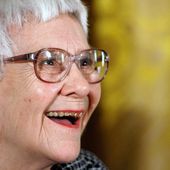 Harper Lee, Author of 'To Kill a Mockingbird,' Dies at 89
Harper Lee, whose first novel, "To Kill a Mockingbird," about racial injustice in a small Alabama town, sold more than 10 million copies and became one of the most beloved and most taught works of ...
Sie hat das zweit wichtigste Buch meines Lebens geschrieben! Jemand wie sie die soviel Wahrhaftigkeit, Gerechtigkeit und Poesie in einer Greschichte verpacken konnte gibt es nicht häufig in der Weltliteratur. To Kill A Mockingbird wird/muss immer weiter leben in den Herzen der Menschen. Wird dieses Buch vergessen, ist die Menschheit tatsächlich am Ende!
Alles weitere schreibt die NEW YORK TIMES viel besser als ich!
Sehr traurig
Heute mal Atticus Finch!
Um über die neuesten Artikel informiert zu werden, abonnieren: