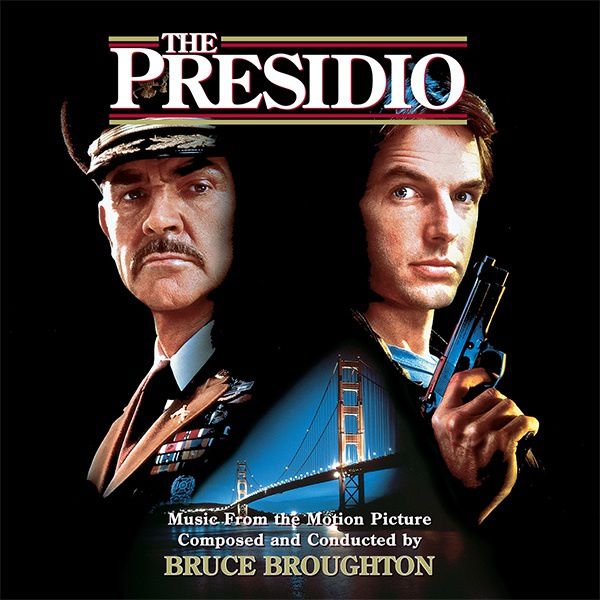 Once again Peter Hyams. A coincidence. Having already written on this blog about 'Outland', not the thriller from 1988 is in the foreground but the score to the film written by Bruce Broughton.

A rewarding aspect of employment with orchestral film music is that you always come into contact with films that had nearly been forgotten. Now 'The Presidio' is not one for a top list, nor can it be considered a classic, but it is a testimony of my own history, a memory of past (cinema) times.

Sean Connery, Meg Ryan and Mark Harmon play the leading roles in the action-thriller, which is about a murder case on the military base in San Francisco, this beautiful city at the Pacific Ocean.

The label Intrada which has specialised in filmmusic released the complete music ,currently available on CD, and it can be recommended to lovers and people who deal with this kind of music. It is by no means easy and quick to consume.

As the listener of mainstream or pop music has very different expectations and demands of music as this maybe to relax or to motivate yourself, the film music listener follows a different interest: How does the composer tell the story with musical vocabulary? Which topics, ideas and motifs does he use to do so?

Broughton had to adhere to the main principles of 'The Presidio': suspense, action and thrill. Subsequently is his compositon. You won't hear extravagant, romantic themes or even a leitmotiv but a universal accompaniment to the atmosphere. The tone is rather bleak, the dynamics quiet and subdued. You desperately seek for melodies, only in the end credits there is a some musical warmth and melody.
Nevertheless, it is worthwhile to deal with the music.

In the 'Main Title', for example, it is interesting to hear how the composer worships the military base and its history and at the same time couples this with the subject of the movie: you hear single notes played by a piano which illustrate the mystery element, bells as a reminder of the past and a trumpet that emphasizes the military background. Such moments bring joy to the listener.
The last 3 cues are remarkable within the score, despite the main theme at the beginning and the long 'Waterhouse Fight'.

'The Presidio' is a short (37 min.) score which is recommended to Broughton fans who want to hear filmmusic beside his huge sucesses like Silverado and Young Sherlock Holmes.
It is an exciting score and at any time a good craftsmanship.
Rick Deckard
Um über die neuesten Artikel informiert zu werden, abonnieren: