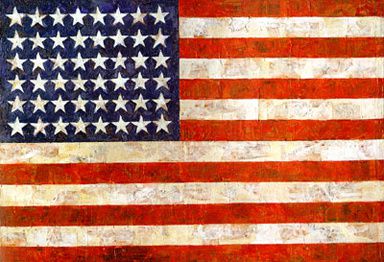 Es gibt Songs, die kann man nicht aufhören zu spielen, Bands, zu denen man immer wieder zurückkehrt, zurückkehren muss, da sie das in der Musik verkörpern, was tief im innersten der eigenen Seele schlummert.
Dieser hier genannte Song von Wilco aus dem famosen Live Album 'Kicking Television - Live in Chicago' ist ein solcher. Jeff Tweedy hat, da die Lyrics viel Raum zur Interpretation liefern, beteuert, dass es kein antipatriotischer Song ist, sondern eher ein kritischer Kommentar zum Konsumverhalten und Werte-Verfall einer Gesellschaft:
The cash machine is blue and green
For a hundred in twenties and a small service fee
I could spend three dollars and sixty-three cents
On Diet Coca-Cola and unlit cigarettes
I wonder why we listen to poets when nobody gives a fuck
How hot and sorrowful, this machine begs for luck

All my lies are always wishes
I know I would die if I could come back new

I want a good life with a nose for things
the fresh wind and bright sky to enjoy my suffering
A hole without a key if I break my tongue
Oh, speaking of tomorrow, how will it ever come?

All my lies are always wishes
I know I would die if I could come back new

I'm down on my hands and knees 
every time a doorbell rings
I shake like a toothache 
when I hear myself sing

All my lies are only wishes
I know I would die if I could come back new

I would like to salute
the ashes of American flags
And all the fallen leaves
filling up shopping bags
Der Song ist eine perfekte Symbiose dieser Zeilen mit der Musik, der Melodie. Was für ein wunderbarer Moment als Tweedy mit der akustischen Gitarre einleitet und Nels Cline ihn auf der elektrischen begleitet. Atemberaubende Momente. Sowieso dieses Gitarrenspiel von Cline: ein sagenhaft schöner Kommentar der im Text unausgesprochenen Gefühle. Der Song ist gerade zu Beginn aber auch später fast wie eine Meditation, die einen in weit entfernte Sphären entführt und eine Gänsehaut nach der anderen verursacht.
Glen Kotche's Drumming ist nicht nur auf diesem Song, sondern grundsätzlich fast als perfekt zu bezeichnen. Ein unglaubliches Gespür für den Rhythmus und die Dynamik. Aber der definitive Höhepunkt ist das Solo von Cline am Ende des Songs: es ist die Fortführung der Seele der Zeilen, der Gefühlswelten des Sängers, eine Eruption mit so immens viel Gefühl! Immer wieder fühlte ich mich an den Jazz erinnert.
Ich schreibe gerade deswegen über diesen Song, da er einem vermittelt wie schön Musik ist und wie sehr sie zu bewegen vermag.
All Time Favourite.
Was für eine grossartige Band!
Rick Deckard
link zu dem Auszug aus dem überragenden gleichnamigen Konzertfilm auf YouTube:
http://www.youtube.com/watch?v=LggFQdO-VlM

Um über die neuesten Artikel informiert zu werden, abonnieren: