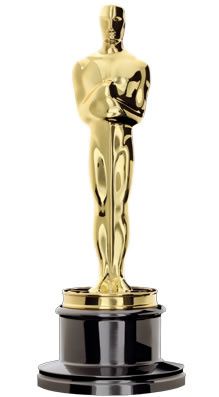 Der wichtigste aller unwichtigen Filmpreise wird wieder vergeben und jedes Jahr aufs Neue feiert Hollywood sich selbst. Dass der wahrhaftige künstlerische Aspekt bei dieser Verleihung natürlich hinten ansteht ist bekannt, trotzdem ist es ein Ereignis, auf das man sich freut. Warum? Ganz einfach:"There's no business like show business." Wir wollen ehrlich sein: Jeder von uns, sei er noch so sehr dem Autorenkino verhaftet oder der Kunst, liebt doch auch mehr oder weniger das Entertainment. Nur darum geht es hier.
"The show must go on" heisst es und daher auch hier die Liste der Nominierten:
"Liebe", "Argo", "Beasts of the Southern Wild", "Django Unchained", "Les Misérables", "Life of Pi", "Lincoln", "Silver Linings Playbook", "Zero Dark Thirty"
Beste Regie:
Michael Haneke, Benh Zeitlin, Ang Lee, Steven Spielberg, David O'Russell
Beste Hauptdarstellerin:
Jessica Chastain, Jennifer Lawrence, Emmanuelle Riva, Quvenzhané Wallis, Naomi Watts
Bester Hauptdarsteller:
Bradley Cooper, Daniel Day-Lewis, Hugh Jackman, Joaquin Phoenix, Denzel Washington
Beste Nebendarstellerin:
Amy Adams, Sally Field, Anne Hathaway, Helen Hunt, Jacki Weaver
Bester Nebendarsteller:
Alan Arkin, Robert De Niro, Philip Seymour Hoffman, Tommy Lee Jones, Christoph Waltz
Die Amerikaner lieben das pathetische, vielleicht auch nationale, Epos. Steven Spielbergs Film 'Lincoln' wurde insgesamt für 12 Oscars nominiert, gefolgt von 11 Nominierungen für 'Life Of Pi' von Ang Lee. Was mich persönlich sehr gefreut hat, sind die 5 Nominierungen für Michael Haneke, einem der unbequemsten und intelligentesten Regisseure auf diesem Planeten.
Am 24. Februar werden die Preise zum 85. mal verliehen, moderieren wird Seth MacFarlane.
And the winner is ... .
Aus Los Angeles
Rick Deckard
Um über die neuesten Artikel informiert zu werden, abonnieren: