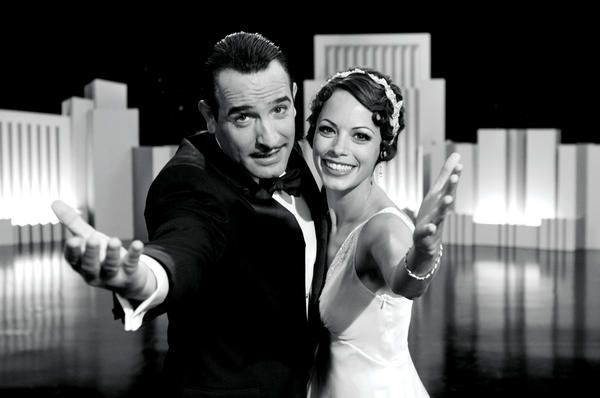 Jedes Jahr auf's neue!
Jedes Jahr Argumente für und gegen den Oscar. Jedes Jahr Langeweile versus Überraschung. Jedes Jahr Hoffnung auf Skandale. Jedes Jahr Dankesreden mit Heuleinlage. Jedes Jahr Party, Gossip, Selbstbeweihräucherung und Entertainment. Jedes Jahr der gleiche Unsinn ... aber:
The show must go on!
Welcome to the Oscar 2012!
In den Gazetten lautet die Schlagzeile Stummfilm gegen 3D. Sehr reißerisch. Ist aber etwas wahres dran. Da die Mitglieder der Academy eher zu den Konservativen gehören und auch im Durchschnitt älter sind, dürfte es 'Hugo', der es auf sage und schreibe 10 Nominierungen gebracht hat, schwer haben gegen 'The Artist'. Jedoch geht es anscheinend bei beiden Filmen um die Anfänge des Kino und die Liebe zum Kino selbst. Man darf gespannt sein. Aber auch 'The Descendants' wird hoch gehandelt und ganz ehrlich (und da schliesse ich mich Mr. Lomax an), mich würde es ausserordentlich freuen, wenn Alexander Payne gewinnen würde. Einer der ganz grossen Regisseure, der Old School mit Neuzeit perfekt verbindet. Wer 'About Schmidt' noch nicht gesehen hat: Sofort nachholen!
Leider hat man wie jedes Jahr die meisten Filme nicht gesehen und kann deswegen nur spekulieren.
Hier die Liste der Nominierten in den wichtigsten Kategorien mit meinen Favoriten:
Best Picture
War Horse
The Artist
Moneyball
The Descendants
The Tree of Life
Midnight in Paris
The Help
Hugo
Extremely Loud & Incredibly Close
Best Actress
Glenn Close, Albert Nobbs
Rooney Mara, The Girl With the Dragon Tattoo
Viola Davis, The Help
Meryl Streep, The Iron Lady
Michelle Williams, My Week With Marilyn
Best Actor
Demian Bichir, A Better Life
George Clooney, The Descendants
Jean Dujardin, The Artist
Gary Oldman, Tinker Tailor Soldier Spy
Brad Pitt, Moneyball
Best Director
Michel Hazanivicius, The Artist
Alexander Payne, The Descendants
Martin Scorsese, Hugo
Woody Allen, Midnight in Paris
Terrence Malick, The Tree of Life
Best Original Screenplay
Michel Hazanivicius, The Artist
Kristen Wiig and Annie Mumolo, Bridesmaids
Woody Allen, Midnight in Paris
J.C. Chandor, Margin Call
Asghar Farhadi, A Separation
Cinematography
The Artist
The Girl With the Dragon Tattoo
Hugo
The Tree of Life
War Horse
Music (Original Score)
John Williams, The Adventures of Tintin
Ludovic Bource, The Artist
Howard Shore, Hugo
Alberto Iglesias, Tinker Tailor Soldier Spy
John Williams, War Horse
Wahrscheinlich liege ich vollkommen daneben. Ist im Grunde aber egal. Machen Sie sich einen Champagner auf liebe Leserinnen und Leser und geniessen Sie das Event des Jahres. Hier sehen Sie nämlich die Mutter, den Vater und alle weiteren Verwandten aller Shows (in Anlehnung an Roger Ebert).
Möge das Kino gewinnen!
Rick Oscar Deckard
Nachtrag 27.02.2012:
Na ja. immerhin habe ich mit 'The Artist nicht ganz falsch gelegen.
Hier alle Gewinner:
Um über die neuesten Artikel informiert zu werden, abonnieren: