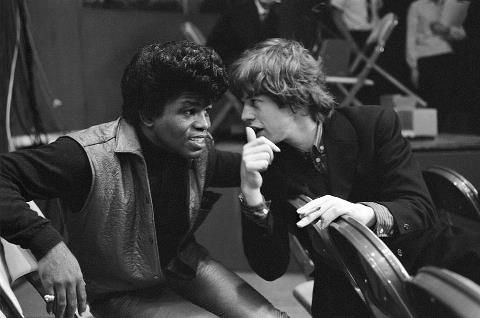 Taken by Bob Bonis in 1964
1964 wurden an 3.000 Highschool-Teenager Freikarten für das Santa Monica Civic Auditorium verteilt. Aufgenommen wurde der Konzertfilm "T.A.M.I. Show". Neben den beiden Herren da oben spielten u. a. The Beach Boys, Chuck Berry, Marvin Gaye und die Supremes.
Keith Richards erzählt noch heute, dass es die schlechteste Idee der Rolling Stones überhaupt war, zu entscheiden, dass man nach James Brown spielt. 
Diesen Film gibt es übrigens nicht auf DVD oder auf Video. Man sollte ihn aber neu verlegen, finde ich!
Offen blieb bis heute, was Jagger dort zu Meister Brown sagt! Nach jahrelanger Recherche und aufwendiger Forschung hat die Rick Deckard Alan Lomax Foundation ein Ergebnis erzielt:
Er sagt: "When the World Is Running Down, You Make the Best of What's Still Around"
Alan Lomax 
Um über die neuesten Artikel informiert zu werden, abonnieren: