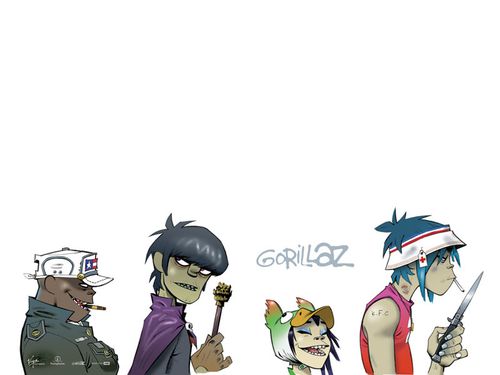 Auf www.gorillaz.com gibt es nicht nur die Vorab-Single "Stylo" zu hören, sondern man kann auch in der Trackliste nachlesen, wer alles als Co-Sänger verpflichtet wurde:
01.  Orchestral Intro feat. Sinfonia ViVA
02. Welcome to the World of the Plastic Beach feat. Snoop Dogg & Hypnotic Brass Ensemble
03. White Flag feat. Kano, Bashy & the National Orchestra for Arabic Music
04. Rhinestone Eyes
05. Stylo feat. Bobby Womack & Mos Def
06. Superfast Jellyfish feat. Gruff Rhys & De La Soul
07. Empire Ants feat. Little Dragon
08. Glitter Freeze feat. Mark E Smith
09. Some Kind Of Nature feat. Lou Reed
10. On Melancholy Hill
11. Broken
12. Sweepstakes feat. Mos Def & Hypnotic Brass Ensemble
13. Plastic Beach feat. Mick Jones & Paul Simonon
14. To Binge feat. Little Dragon
15. Cloud of Unknowing feat. Bobby Womack and Sinfonia ViVA
16. Pirate Jet
"Demon Days" ist nun fast fünf Jahre alt und außer dem B-Seiten-Sampler D-Sides (2007) und der Produktion eines Musicals hat man von der fantastischen Band um 2D, Murdoc, Noodle und Russel lange nichts gehört.
Die Gorillaz haben, wie es unser Freund Ewing ausdrücken würde, einen Luxusstatus. Sie sind extrem kommerziell und doch sind sie in der Lage der Stagnation zeitgenössischer Popmusik entgegen zu wirken. "Zumindest unternehmen sie etwas dagegen" (www.laut.de)
Bei vergleichbaren Projekten ist es häufig so, dass zu viele Gastmusiker und Künstler den Brei verderben. Bei den Gorillaz glaube ich an die Weiterentwicklung in jede erdenkliche Richtung.
Die Hoffnung stirbt zu letzt. Das Album habe ich noch nicht gehört, werde mich aber wieder melden, wenn ich die Suppe probiert habe.
Alan Lomax
Um über die neuesten Artikel informiert zu werden, abonnieren: