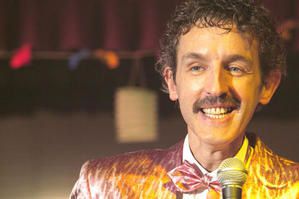 Unweigerlich und jeden Mittwoch muss ich wieder an Gurki, aus dem Buch "Fleisch ist mein Gemüse" denken. Seit ein paar Monaten spiele ich Gitarre bei unserer Firmenband. Die Band in der Besetzung Schlagzeug, Gitarre, Bass, 2 x Keyboards, Sax und 2x Gesang ist technisch eigentlich recht gut. Beim Blick in die Gesichter der geschätzten Kollegen muss ich aber immer wieder innerlich lachen.
Oftmals stelle ich mir dann auch die Frage, ob ich vielleicht ein entgegen gesetztes Leben zu Heinz Strunk führe. Und nach einem passiven Leben der musikalischen Hochkultur, nun ein aktives Musikerleben im Unterhaltungsgeschäft führe.
Egal, Hauptsache geil abgeliefert! Hier die Setliste zum morgigen Auftritt:
Cantaloupe Island
Fly me to the moon
Girl from Ipanema
You are the sunshine..
…………………………
All of me
On the sunny side..
Fever
Killing me softly
…………………….
Autum leaves
Watermelon man
Dink doch eene mit
Um über die neuesten Artikel informiert zu werden, abonnieren: